Chicago: sightseeing is a breeze in the Windy City, clearly a tourist's kind of town - City Of The Month.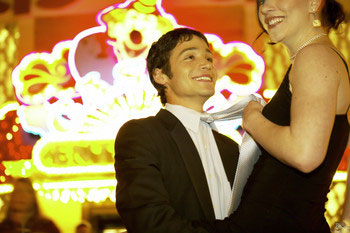 In the very heart of America's third largest city, a pedestrian tunnel outside the fashionable Drake Hotel takes guests under Lake Shore Drive to Chicago's trendiest strand of sand--Oak Street Beach. Jammed with upscale young residents and vacationing families on a torrid summer day, it is not Waikiki or Malibu. But this powdery oasis rimming vast blue Lake Michigan provides an inviting playground in the midst of skyscrapers and urban bustle. Located just steps from smart shops and countless tourist attractions, the sandy ellipse--complete with hovering gulls--fits naturally into a big-city vacation.

Basking on your blanket or glancing up from sandcastle-building, you see sedate East Lake Shore Drive, an historic block that includes the Drake, a 1920s classic, and Gold Coast condos of Chicago's rich and famous. Advice columnist Ann Landers lived in this high-rent enclave until her death last year, as did former First Lady Nancy Reagan, who roller-skated down its sidewalks as a girl. (Talk show queen Oprah Winfrey resides a few blocks away.)

Down the street are the most prestigious names in retailing--Gucci, Tiffany, Louis Vuitton, Nieman Marcus, Saks Fifth Avenuo--all part of North Michigan Avenue's "Magnificent Mile" the Midwest's answer to Fifth Avenue and Rodeo Drive. For informal browsing and a glass elevator ride, try the vertical malls at Water Tower Place, Chicago Place, the Shops at North Bridge, and the Shops at 900 North Michigan. At the latter address, guests of the ultra-deluxe Four Seasons Hotel Chicago are just an elevator trip away from anchor store Bloomingdale's.

The posh Ritz-Carlton Chicago, also in the Four Seasons family, is conveniently connected to Water Tower Place, anchored by Marshall Field's (Chicago's signature department store) and Lord & Taylor. Across the street is the Water Tower, a castle-like beacon that practically says "Chicago" Horse carriage rides, trolley tours, and double-decker bus tours depart from the limestone landmark.

Another Water Tower Place neighbor on North Michigan is the 100-story John Hancock Center. In the open-air Skywalk of its 94th-floor observatory, you can feel the wind and hear the buzz 1,000 feet below. Mix vistas with lunch or dinner in the Hancock's 95th-floor Signature Room or over drinks in the lounge a floor above. On clear days you can see 50 miles in every direction, as far away as Wisconsin, Indiana, and Michigan.

Similar four-state panoramas are available from the 103rd-floor Skydeck of the 110-story Sears Tower, the nation's tallest building. New York's Empire State Building claims the No. 2 spot, followed by Chicago's Aon Center (no observation deck) and Hancock Center.

To get a different perspective on Chicago's world-renowned buildings, hop aboard a Lake Michigan tour boat for great skyline views. Special architecture cruises on the Chicago River showcase some of the city's most significant structures.

Many sightseeing cruises depart from Navy Pier, the city's summertime amusement mecca. Ride the giant Ferris wheel, relax at an outdoor cafe, or keep cool in the Crystal Garden, a one-acre, glass-enclosed palm court landscaped with fountains and leafy vegetation. Navy Pier also has an IMAX theater, concert stage, the Chicago Shakespeare Theater, Chicago Children's Museum, and Smith Museum of Stained-Glass Windows. Fireworks light up the sky every Wednesday and Saturday in summer.

Navy Pier will be a venue for Tall Ships Chicago 2003, a display of nearly 30 sailing ships July 30 through August 4. Festivities include a parade of ships, and select vessels will be available for boarding. Chicago's 46th annual Venetian Night, an aquatic parade of Chicago-area boats decorated with lights and props, takes place August 2. At least a million spectators will throng the lakefront August 16-17 for the 45th annual Chicago Air and Water Show. Daredevil water acts and aerobatics flight maneuvers headline the country's oldest and largest free-admission exhibition of its kind.

Chicago's dynamic theater scene also plays a leading role in entertaining visitors. Much of that activity takes place in the central business core, the Loop, where a revived theater district has developed on and around Randolph Street. Several of these venues, such as the Cadillac Palace and Oriental theaters, are lavishly restored movie palaces and vaudeville stages dating back to the 1920s.

The hottest ticket these days is Disney's The Lion King, running through November 23 at the Cadillac Palace. Pulsating with African rhythms, the centerpiece of this year's Broadway in Chicago series (312-902-1400, www.broadwayinchicago.com) is the winner of six Tony Awards including Best Musical.

In the Old Town neighborhood a short cab ride north of downtown, satirical sketches skewer politicians and sacred cows at Second City. Many nationally known entertainers (Joan Rivers, Alan Alda, John Belushi, to name a few) got started at this Chicago institution.

The city's five major museums are year-round visitor magnets, but they seem to be especially inviting on dreary winter days and on scorching summer days when an air-conditioned retreat is needed. Three of these heavyweights are clustered on the Museum Campus, a park-like area along the downtown lakefront.

You easily could spend a whole day prowling through the Field Museum, a colossal temple filled with everything from Egyptian mummies and dinosaur relics to precious gemstones and Native American artifacts. One of its most prized possessions is the skeleton of Sue, the largest, most complete, and best-preserved Tyrannosaurus Rex yet discovered.

Presentations of dolphin and whale behaviors in the Oceanarium, a marine mammal pavilion, top the agenda at the neighboring Shedd Aquarium, the world's largest indoor aquarium. The new "Wild Reef" exhibit, eight years in the making, provides a "diver's eye" view of a coral reef in the Philippines, featuring 26 Indo-Pacific habitats. The 30-some sharks comprise America's largest and most diverse shark collection. Nearby is the Adler Planetarium and Astronomy Museum, where guests can lean back and relax as sky shows take them into outer space.

In the Loop, the Art Institute of Chicago, one of the nation's leading art museums, dazzles even jaded gallery-goers with its collection of Impressionist and Post-Impressionist paintings. On view are works by such European masters as Monet, Renoir, Van Gogh, and Gaugin. Through August 17, "Himalayas: An Aesthetic Adventure" showcases Buddhist and Hindu art from Tibet, Nepal, Jammu and Kashmir, and Bhutan.

The Museum of Science and Industry, another Chicago icon, is a family favorite loaded with hands, on displays that keep children engaged for hours. Guests can climb aboard an actual Boeing 727, walk through a 16-foot-tall human heart model, see a baby chick hatchery, and descend into a replica of a southern Illinois coal mine.

It's easy to sample residential areas on excursions offered by Chicago Neighborhood Tours (312-742-1190, www.chgocitytours.com). Different communities are featured each weekend on these four- to six-hour bus tours departing from the Chicago Cultural Center in the Loop. The Pilsen & Little Village tour looks at Mexican art and customs, while African-American culture is the focus in the South Side's Bronzeville neighborhood. Other trips target Swedish culture (Andersonville), Little Italy & the Historic West Side, and Chinatown & Greek Town.

Beyond the city limits, family attractions abound. In west suburban Brookfield, for example, Brookfield Zoo sprawls across 216 acres. One of America's premier zoos, it boasts cageless enclosures that simulate natural habitats, dolphin shows, and state-of-the-art exhibits like Tropic World, a rain forest filled with primates, other mammals, and birds.

Six Hags Great America theme park, midway between Chicago and Milwaukee, offers 12 roller coasters, music shows, and arcade games. The newest ride is Superman--Ultimate Flight, a next-generation coaster with seats tilting riders face-first into a flying position. Also popular, especially on a steamy day, are the four drenching water rides.

KNOW BEFORE YOU GO

These Tips may enhance your Chicago trip:

PERSONAL TOUCH: The Chicago Greeter program matches a tourist with a local volunteer of similar interests for an informal two- to four-hour tour of Chicago. Call (312) 744-8000 or register online at www.chicagogreeter.com.

CITYPASS. Museum-goers can save money with CityPass, a booklet with discount tickets to six major attractions--the Field Museum, Art Institute of Chicago, Museum of Science and Industry, Adler Planetarium, Shedd Aquarium, and Hancock Observatory. The adult CityPass is $49 (compared to $87.75 if tickets are purchased separately); the youth pass for ages 3-11 is $38. Once used, booklets are valid nine days and transferable if unused tickets are left. CityPass can be purchased at the attractions or online at www.citypass.com.